The Greater Tampa Bay Area Council has a proud tradition of adult leader training, exemplified by the many Wood Badge courses held in our current and predecessor councils. The Scouting program has been immeasurably strengthened by the hundreds of dedicated leaders who have become Wood Badge trained.
National Course 329 was held at Flaming Arrow Scout Reservation in August 1968. Regional courses included 86-1 (March 1969) and R6-12 (April 1971), also at Flaming Arrow.
Gulf Ridge Council was among the early councils to offer Wood Badge training when the course was first offered at a council level. The Course Director for the first course of this type, SE-10 in 1973, was Walter J. Krohne, Jr. of Central Florida Council. The Pinellas Area Council offered its first course in 1976, with John T. Valentine, Jr. as Course Director, and held one additional course prior to becoming West Central Florida Council in 1978.
In addition to traditional assigned course numbers, since SE-54 all but one Gulf Ridge Council course was also identified according to the council camp where (at least) the first weekend of the course was held. These local designations referenced Camp Owen J. Brorein and Flaming Arrow Scout Reservation, and are shown below; this naming convention has continued for Greater Tampa Bay Area Council courses. Both SE-10 and SE-204 were held at Flaming Arrow.
Wood Badge course 16-89-22-1 will be held during spring 2022. Course details are available here.
Greater Tampa Bay Area Council
| | | | |
| --- | --- | --- | --- |
| Year | Course | Designation | Course Director |
| 2016 | S4-86-16-2 | FASR 22 | Latour "LT" Lafferty |
| 2017 | S4-89-17-1 |  — | Andra Kullman |
| 2017 | S4-89-17-2 | FASR 23 | Randall M. MacDonald |
| 2018 | S4-89-18-1 | — | Fifi Rose |
| 2018 | S4-89-18-2 | FASR 24 | Billy McCracken |
| 2019 | S4-89-19-1 | — | Tricia Hall |
| 2019 | S4-89-19-2 | FASR 25 | Kellye Williams |
| 2020 | S4-89-20-1 | FASR 26 | David Nelson |
| 2020 | S4-89-20-2 | — | Jeff Brown |
| 2021 | S4-89-21-1 | FASR 27 | Melissa Snively |
| 2021 | S4-89-21-2 | FASR 28 | Scott Dutton |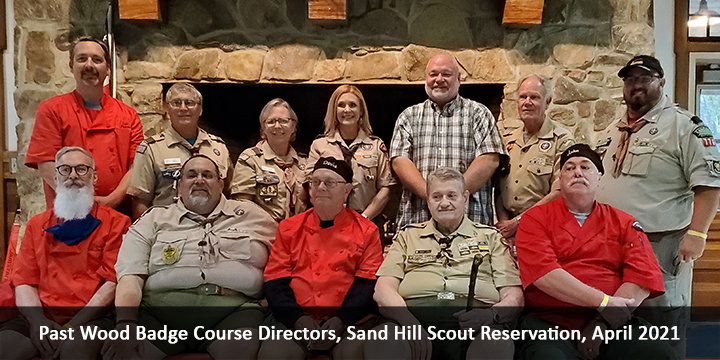 Gulf Ridge Council
| | | | |
| --- | --- | --- | --- |
| Year | Course | Designation | Course Director |
| 1973 | SE-10 | — | Walter J. Krohne, Jr. |
| 1975 | SE-54 | Brorein 1 | E. J. "Jim" Huggins |
| 1975 | SE-72 | Brorein 2 | John S. Brengle, Jr. |
| 1976 | SE-139 | Brorein 3 | William F. Clark |
| 1977 | SE-180 | Brorein 4 | Karl M. Bordner |
| 1978 | SE-204 | — | William F. Clark |
| 1980 | SE-277 | Brorein 5 | Charles E. "Snake" Volz |
| 1982 | SE-324 | Brorein 6 | Donald M. Rotrock |
| 1984 | SE-368 | Brorein 7 | Herbert F. Murray |
| 1987 | SE-433 | Brorein 8 | Kenneth D. Stanton |
| 1990 | SE-540 | Brorein 9 | David E. Lane |
| 1991 | SE-566 | Brorein 10 | Darrell Clark |
| 1992 | SE-598 | Brorein 11 | Marshall Nuccio |
| 1994 | SR-040 | Brorein 12 | Gary Braun |
| 1995 | SR-095 | Brorein 13 | Norm Van Dame |
| 1996 | SR-166 | Brorein 14 | Doyle Skinner |
| 1997 | SR-204 | Brorein 15 | Ed Kellner |
| 1998 | SR-272 | Brorein 16 | David E. Lane |
| 1999 | SR-319 | Brorein 17 | Bob Graham |
| 2000 | SR-360 | Brorein 18 | Bill Daggett |
| 2002 | SR-496 | FASR 1 | Jack Saunders |
| 2002 | SR-508 | FASR 2 | Dottie Brown |
| 2003 | SR-569 | FASR 3 | Gary Kemp |
| 2004 | SR-617 | FASR 4 | Richard Dreyer |
| 2005 | SR-676 | FASR 5 | Jon Smith |
| 2006 | SR-729 | FASR 6 | Jackson Morris |
| 2007 | SR-808 | FASR 7 | Rick Wyatt |
| 2008 | SR-892 | FASR 8 | John Ehas |
| 2009 | SR-951 | FASR 9 | Terry Foster, Sr. |
| 2009 | SR-953 | FASR 10 | Jim Gray |
| 2010 | SR-1033 | FASR 11 | Patricia Van Lengen |
| 2010 | SR-1034 | FASR 12 | William Guglielmi |
| 2011 | S4-86-11-1 | FASR 13 | Earl Richardson |
| 2011 | S4-86-11-2 | FASR 14 | Bob Freemon |
| 2012 | S4-86-12 | FASR 15 | Christine Crowell |
| 2013 | S4-86-13 | FASR 16 | Lisa Rauchmiller |
| 2014 | S4-86-14-1 | FASR 17 | Patricia Guglielmi |
| 2014 | S4-86-14-2 | FASR 18 | Mark Rose |
| 2015 | S4-86-15-1 | FASR 19 | Brian Hartpence |
| 2015 | S4-86-15-2 | FASR 20 | Eric Perron |
| 2016 | S4-86-16-1 | FASR 21 | Gregg Hilferding |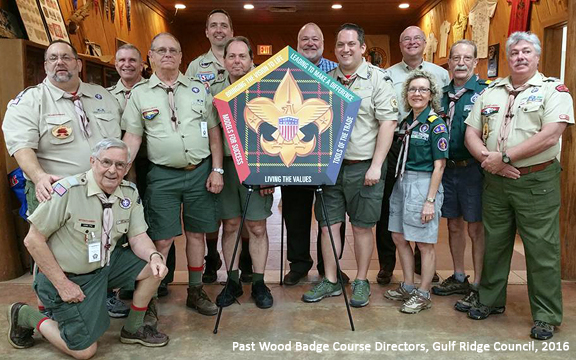 Pinellas Area Council
| | | |
| --- | --- | --- |
| Year | Course | Course Director |
| 1976 | SE-94 | John T. Valentine, Jr. |
| 1977 | SE-150 | Karl M. Bordner |
West Central Florida Council
| | | |
| --- | --- | --- |
| Year | Course | Course Director |
| 1980 | SE-220 | John T. Valentine, Jr. |
| 1983 | SE-338 | Robert W. Filbey |
| 1985 | SE-397 | Donald K. Ford |
| 1988 | SE-463 | Jack C. Smetzer |
| 1990 | SE-519 | Roger L. Spencer |
| 1992 | SE-591 | G. Thomas Toerner |
| 1994 | SR-53 | William M. McMichael |
| 1996 | SR-181 | Jimmie C. Willis |
| 1998 | SR-268 | Kenneth Lowe |
| 2000 | SR-343 | Jeffrey C. Willis |
| 2002 | SR-436 | Kim Vogel |
| 2004 | SR-611 | Martha L. Winland |
| 2005 | SR-665 | Alice M. Cliff |
| 2007 | SR-802 | Scott A. Ludes |
| 2008 | SR-886 | Robert C. Swain |
| 2010 | SR-1022 | Kenneth A. Knaebel |
| 2011 | S4-89-11-1 | Katherine H. Labus |
| 2013 | S4-89-13 | Natalie E. Coser |
| 2015 | S4-89-15 | Bruce D. Nichols |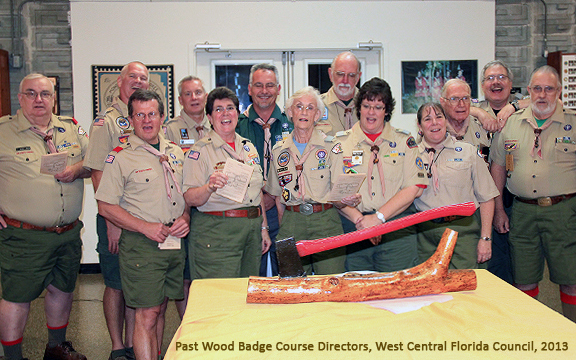 National and Regional Courses
| | | | |
| --- | --- | --- | --- |
| Year | Course | Location | Course Director |
| 1968 | National Course 329 | Flaming Arrow Scout Reservation | unknown |
| 1969 | 86-1 | Flaming Arrow Scout Reservation | George Harwick |
| 1971 | R6-12 | Flaming Arrow Scout Reservation | James "Bud" Malsbary |