The Tampa Scout Shop is open and has implemented precautions to protect customers and staff.  Please wear a face mask.
Store Hours:
Monday – Friday   9:00 am – 6:00 pm
Saturday   10:00 am – 4:00 pm
Sunday   Closed
Recognize Your Scouts' Achievements!
Recognize the hard work of your Scouts with gifts from the Tampa Bay Scout Shop. From rank coins, Arrow of Light and Eagle plaques, frame certificates and scrap books, you can commemorate these great Scouting events with gifts that make the evening that much more special.
13228 N. Central Avenue Tampa, FL 33612
Follow the Tampa Scout Shop Facebook page and be the first to know about sales, promotions, special events and new items!
Check out all of these great sales at the
Tampa Scout Shop:
Has it been a while since you visited the Tampa Bay Scout Shop? Take a look at the slide show below and see all the displays of great gear, uniforms, supplies and gifts! Better still, stop by and check it out for real!
New Scout Uniform and Advancement Ordering Tool
We have created a new shopping request form for you to purchase any of our 600 Uniform and Uniform related products, Cub Scout or Scouting BSA advancements online.  You can select the items and have them gathered, bagged, and set aside for you to pick up in-store, contactless curbside, or have the items shipped directly to you.  Click here for the online order form.
Payment Methods & Policies
We accept most major credit cards, debit cards with the VISA or MasterCard logo, checks, with proper identification, and cash. Checks should be made payable to the Tampa Bay Scout Shop and a valid driver's license is required for all check purchases. Refunds: A valid receipt and original packaging is required for full refund, same as paid. All sale items are final and only even exchanges are allowed. Tax-Exempt Certificates: Please make sure a copy of your current Tax-Exempt Certificate is on file at the Scout Shop. To meet Florida requirements for tax-exempt purchases, payments must be made with your unit account, unit credit card or unit check.
Uniforms
Visit the new and improved uniform website.
Advancements
Please ensure that all leaders, youth and parents are aware of the BSA restrictions on awards. The following require an advancement form or written proof to purchase or replace (a printout from the Council or an award card is acceptable): Requires one (1) signature on advancement form by the registered Unit Leader:
Cub Scout ranks
Merit badges
Requires three (3) Board of Review signatures on advancement form
Requires card or certificate to purchase:
Eagle medal/ranks/knots
Eagle Palms must be approved by Council prior to purchase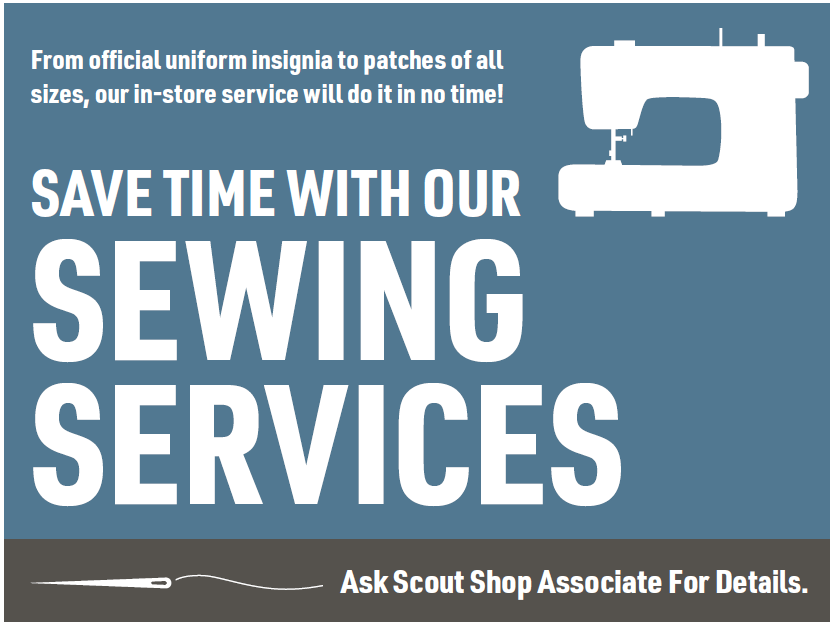 June 9, 2016