If you are a current Silver Beaver lifetime member (those who signed up last year)  please use this link to register.
If you need to buy a ticket to the event, you may register here.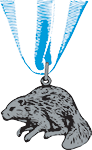 Recipients of this award are registered Scouters who have made an impact on the lives of youth through service provided to the Council.
*Any photos taken at a Greater Tampa Bay Area Council event, are the property of the Greater Tampa Bay Area Council. Photos may be used in marketing materials on our Website, Social Media pages, or Print.