Every one knows what Summer Camp is … well, Winter Camp is a four day version of this week-long adventure! Scouts are out of school for the holidays, bored and looking for something to do. Winter Camp offers merit badge instruction and other Scouting adventures.
While it may be cold up north, December is a great time of the year to enjoy Florida in the outdoors. And there are NO MOSQUITOES! Days are still warm enough to take advantage of most of Flaming Arrow's quality programs. Arts and Sciences, Climbing, Shooting Sports and Outdoor Skills are some of the other areas to enjoy during Winter Camp.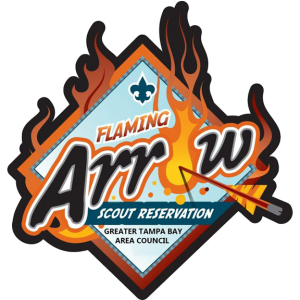 When: December 27th – 30th, 2019 
Where:
Flaming Arrow Scout Reservation, 1201 Boy Scout Road, Lake Wales, Florida 33898
Fees: $140 for youth, $150 for Provisional campers, $70 for all adults. All fees must be paid in full by December 15th.
Note: Participants must bring their own tents. No tents will be provided.
Note: Provisional campers are youth coming to camp without the traditional formation of a Scout Unit.  If your unit is not coming to Winter Camp, individuals can come as provisional participants. Please register as a provisional Camper.  There will be a $10 fee added on, to cover the expense of extra staff to lead these Scouts.
 Merit Badges for Winter Camp!
Art
Communication
Environmental Science
Woodwork

Pioneering

Archery
…and MORE!
Please see Leaders' Guide, in the Resources section below, for more details.

Questions? Please contact Jay Sheridan at Jaysheri1976@yahoo.com.
 Resources